From October 2018 through February 2019, Joel Karabo Elliott's Roots Grown Deep will be touring southern Africa to give families, organizations, audiences and landscapes a pre-launch glimpse of their unfolding project, The Musical Ecology. Featuring 33 musicians from 11 countries of origin, and exuding an effortlessly trans-cultural aura, The Musical Ecology is due for gradual release in 2019 alongside a traveling educational healing node, featuring a number of multi-disciplinary educators and children from the inter-related 'A' fields: arts, architecture and agriculture.
This is music explicitly for the wholistic regeneration of our selves, our communities, and our earth.
Listen to the first online release here, a drop of Moonlight performed by a 13-piece ensemble, featuring an unprecedented collaboration of spirit-filled singing by the likes of Nono Nkoane, Msaki, Naftali, Joel Karabo Elliott and Mthwakazi: www.soundcloud.com/rootsgrowndeep
As part of the southern Afrika breaking bread and listening sessions tour, Roots Grown Deep offers a special double set presentation: first, a live performance by a region-specific ensemble, then a DJ set by JKE revealing the sounds and stories behind the final mixes from their 23-song recorded repertoire. Be among the first to hear these ground-breaking recordings.
The Musical Ecology is intended to resonate with people whose hearts and minds who are fused and enchanted to actively connect natural and spiritual reality. The music is a portal for unifying and inspiring those people and communities across the land who recognize the shift of human consciousness occurring on our planet, and who humbly seek to serve the processes of healing and regeneration.
Following is the schedule for the Breaking Bread Tour, with links to venues or specific events listed on Facebook. You are lovingly and deeply invited! We thank you for sharing with us in this project, mission and calling.
10 October 2018 Inhambane, Mozambique | Sumi (Praia do Tofo)
27 October Johannesburg | Broken Chords Creative Studio
23 November Durban | Conscious Café at the Castle (Hillcrest)
15 December East London | Emerald Hill (Kwalera)
20 December Garden Route | Vintage Vinyl Café (Bibby's Hoek)
29 December Circle of Dreams | Learning Clan
January 2019 Cape Town | TBD
January 2019 Gaborone | TBD
February Tshwane | TBD
February Limpopo | TBD
We are roots but there are still hashtags ;-) Please use them when promoting the movement . . .
#musicalecology #rootsgrowndeep #awholeregeneration #travellight
#bloodonmyfinger #brothermovingon
And for those really digging DEEP…
Here is the landscape of communal partnerships for the 2019 Musical Ecology project (education healing node). This family includes indigenous land-inspired projects, cosmic visionaries, community-based organizations and creative artists…
One Shushu Day / RiverSong
Wade In The Water / Mukwai Wabei Siyolwe
The Hive – Muizenberg
The Afro Dennias Show
Fireside Theatre
Conscious Café & Sea Shepherd
Loeries Love / Vintage Vinyl Café
Emerald Hill
Learning Clan
Nokeng Festival of Music
Love Limpopo
Zwakala / Mina's Art Café / Bjatladi Youth Development
MaMaKoBo Films
Clear Creek Creative – Disputanta, Kentucky, USA
Alternate Roots – Atlanta, Georgia, USA
Global Community Communications Alliance – Tumacacori, Arizona, USA
Pro Helvitia
Chimurenga
Liesl Hasselbrek
Related Searches:
Musical Ecology
,
Roots
,
Breaking Bread Tour
,
Listening Sessions
,
Joel Karabo Elliott's
,
arts
,
architecture and agriculture
,
a drop of Moonlight
,
Nono Nkoane
,
Msaki
,
Naftali
,
Inhambane
,
Mozambique Sumi (Praia do Tofo)Mthwakazi
,
DJ JKE
,
Johannesburg
,
Broken Chords Creative Studio
,
Durban
,
Conscious Café at the Castle (Hillcrest)
,
East London Emerald Hill (Kwalera)
,
Garden Route Vintage Vinyl Café (Bibby's Hoek)
,
Circle of Dreams Learning Clan.#musicalecology
,
#rootsgrowndeep
,
#awholeregeneration
,
#travellight
,
#bloodonmyfinger
,
#brothermovingon
,
One Shushu Day / RiverSong
,
Wade In The Water / Mukwai Wabei Siyolwe
,
The Hive – Muizenberg
,
The Afro Dennias Show
,
Fireside Theatre
,
Conscious Café & Sea Shepherd
,
Loeries Love / Vintage Vinyl Café
,
Emerald Hill
,
Learning Clan
,
Nokeng Festival of Music
,
Love Limpopo
,
Zwakala / Mina's Art Café /
,
Bjatladi Youth Development
,
MaMaKoBo Films
,
Clear Creek Creative – Disputanta
,
Kentucky USA
,
Alternate Roots – Atlanta
,
Georgia USA
,
Global Community Communications Alliance – Tumacacori Arizona
,
USA
,
band
,
show
,
music tour
Related Pages:
Images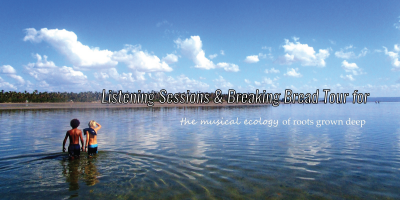 Listening Sessions & Breaking Bread Tour Banner
Listening Sessions & Breaking Bread Tour Banner
View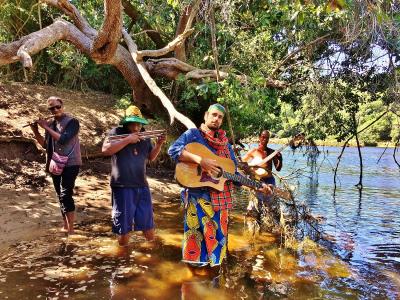 Roots at knysna river
Roots at knysna river
View
Comments